If you are planning your wedding after the pandemic, you have probably thought about using disposable plates at least a few times.
The plastic plate set with a rose gold design is one of our suggestions for your ceremony.
Even though you might have some doubts about doing this, we're here to tell you that using disposable wedding plates will make a big difference in how stressed you are before and on the day of your wedding. Also, they often look better than the real thing.
Plastic cutlery and disposable party plates are no longer just for use at picnics.
There are some quite nice plastic plates available. Paper plates or plates made of plastic can be used at any wedding because they come in many colors and styles.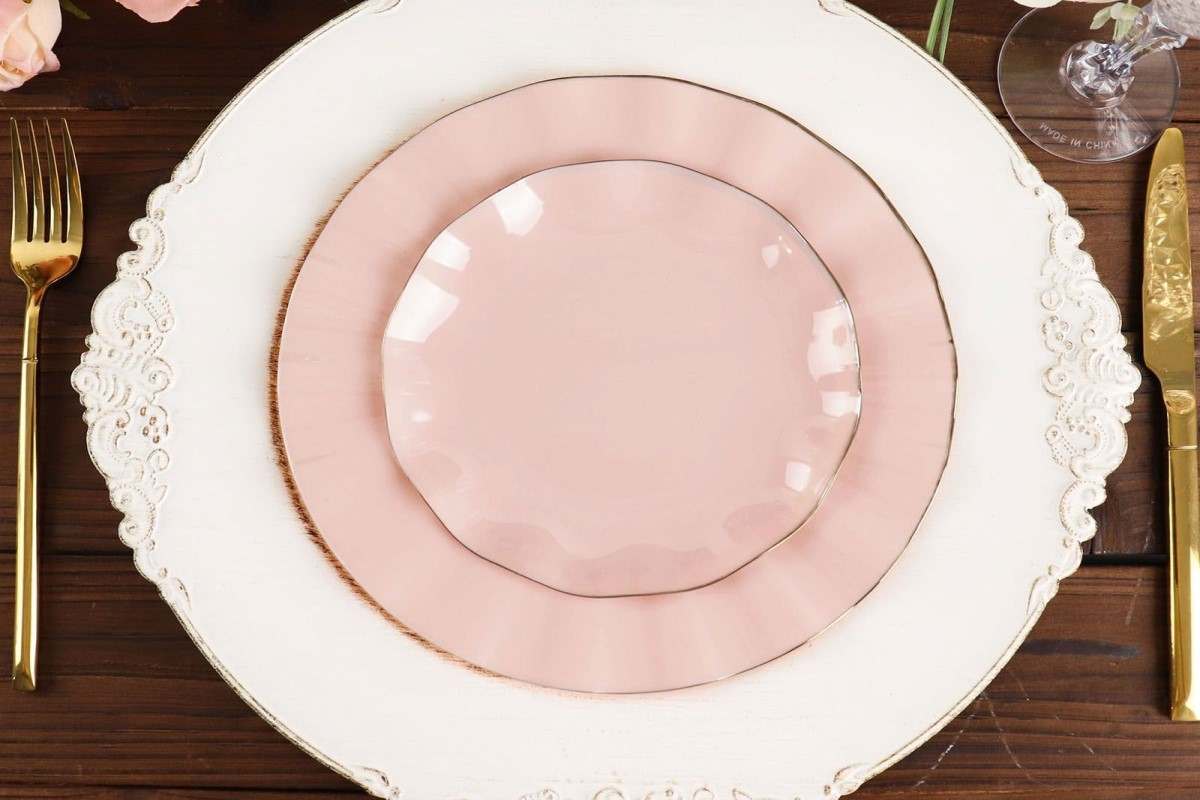 Without further ado, here are our top five reasons to use disposable wedding plates and suggestions for where to buy the best disposable tableware: But before we talk about that, let's talk about the different types of plates you'll need for the wedding.
You'll need appetizers, salad, dinner, and dessert plates for your wedding. We won't go into too much detail here, but you'll need to think about four basic types of plates for your wedding.
People usually eat hors d'oeuvres from appetizer plates, which, as you might guess, are used during cocktail hour. They are small enough to be carried around while your guests talk, but big enough to hold all of the tasty finger foods you will be serving.
The next thing on the table is the salad plates, which, you guessed it, are used for the salad course. Since these plates are a little bigger than appetizer plates, you can use them to serve chopped vegetables with a variety of toppings.
On the other hand, they are not so big that they block the view of the plates that will be used for the main course. Then there are dinner plates, which are much bigger than salad plates and are better for serving the main course or several dishes at a buffet.
And last but not least, there are the dessert plates, which can be used to serve the wedding cake and other sweet treats at the end of the party. Even so, these dishes are not the least important thing.
So, as a rule of thumb, you will usually need between three and four different kinds of plates. When you think about the fact that even the smallest weddings can have a lot of guests, the total cost of the event can quickly skyrocket and make a big difference in your budget.
Also, you shouldn't forget how important it is to have disposable knives, forks, spoons, and other flatware.
Disposable plastic plates are an option that is not only more attractive but also cheaper and easier to take care of. This is the best way to solve the issue.
Even though new materials come out all the time, paper and plastic are the most common materials for disposable plates. When talking about plastic dinner plates, it's better to say "plastics" instead of "plastic."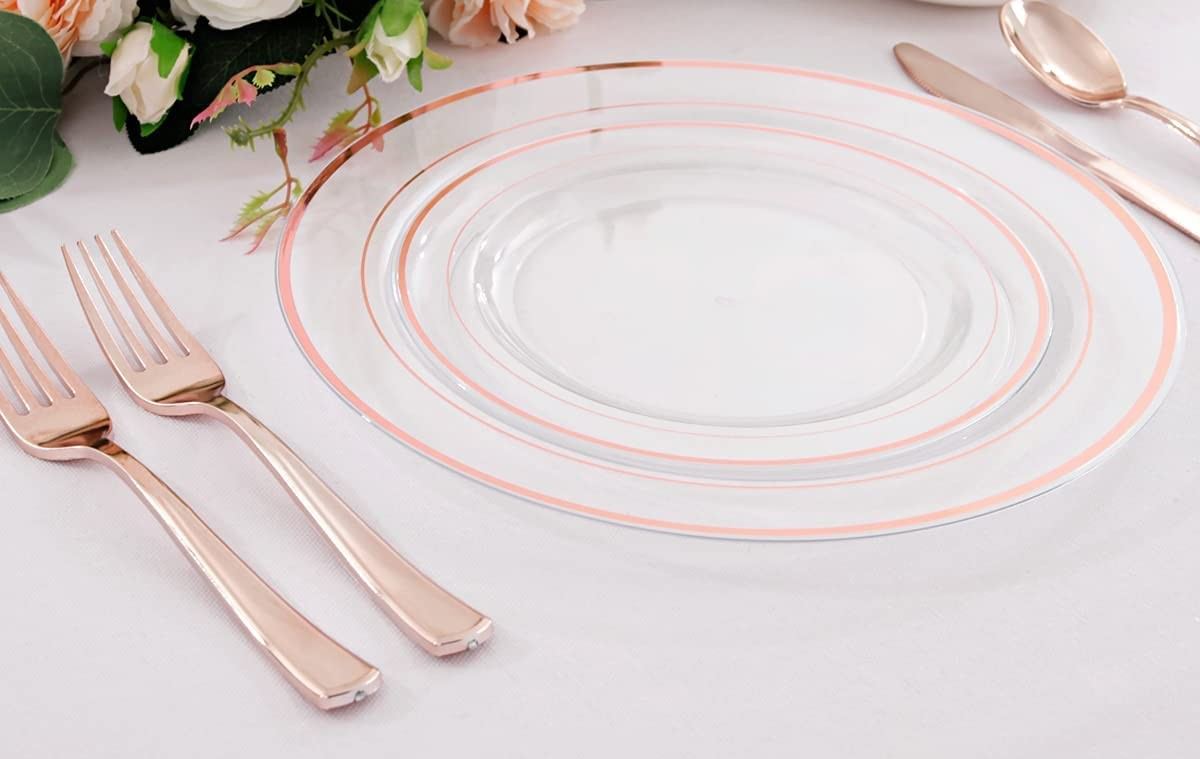 This is because there are usually around seven different kinds of plastic used to make plastic wedding plates.
When you break these seven types of plastic into their subgroups, it becomes clear that plastic is not just one thing. It is very important that you know this because some types of plastic have been linked to several 09bad health effects, most notably changes in hormones.
Also, plastic doesn't break down in the environment, so it stays there for decades after it's been thrown away.
The day you get married will be one of the most important days of your life. So, we want it to be as close to perfect as possible by having the most beautiful wedding decorations, the most luxurious table settings, and party supplies that can be bought in large quantities.
When brides and grooms are trying to keep costs down when planning their weddings, choosing the right tableware is an important step. Elegant disposable plates can be cheap, good for the environment, high-end, and beautiful.
Also, they make it easy to clean up because you don't have to wash the dishes after you use them. Our company can give you the best disposable fancy plates in a variety of styles that are perfect for any wedding.
Plastic plates are used a lot at parties and other large gatherings for several reasons. One of the most important benefits of using plastic glasses is that they are easier to use and less expensive than their glass counterparts.
On the other hand, since these kinds of plates were first put on the market, they have been met with a range of reactions, some positive and some negative.
They are better because they can be used more than once and last longer than regular plates. Using these kinds of plates also has several other benefits.
Read on to find out about some of the most important benefits of plastic plates: When compared to paper plates, the types of plastic plates we're talking about here are better because they last longer and can be used outside.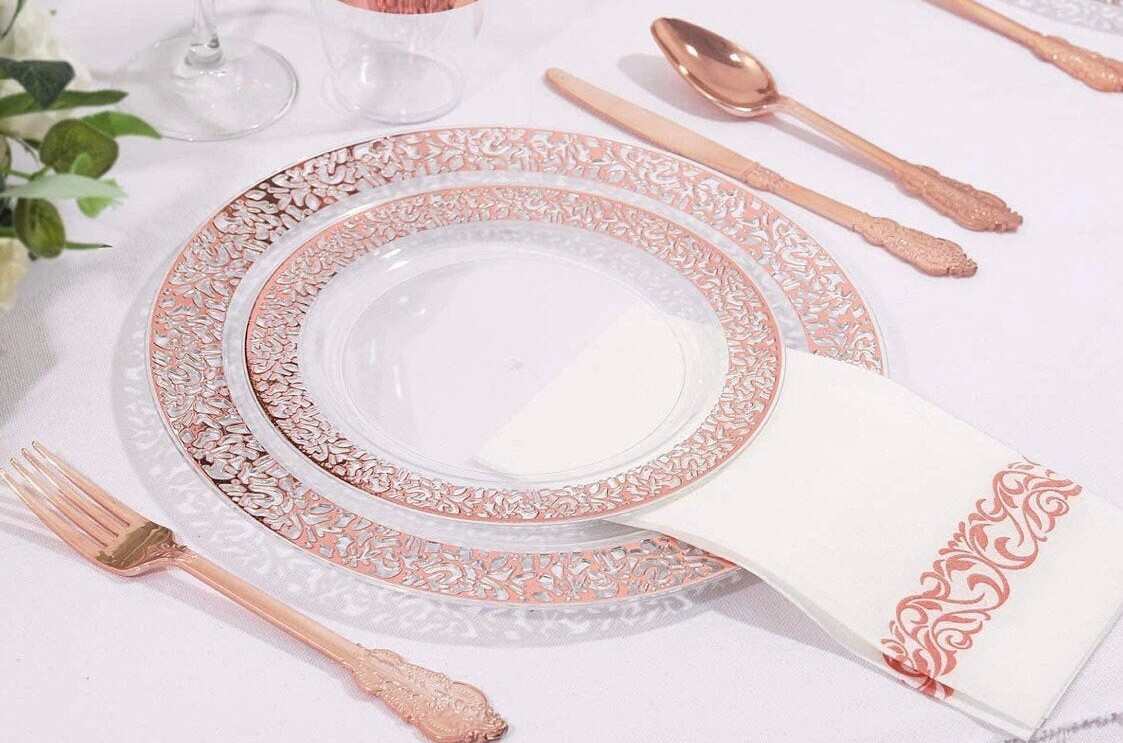 They are very useful and can be used almost anywhere, mostly because they don't break easily. Some of these plates are made to be used only for certain occasions, like family holidays or birthday parties, so that they can be easily cleaned and washed before being used again.
Birthday parties and family vacations are two examples of these kinds of events. Still, there are many good reasons to use things made of parts that can't be used again.
When you want to do chores around the house, it's best to choose items that can't be used more than once.
If you often have to deal with how food is presented, you might want to buy one of these plates. This is one of the most important things you need to think about before you worry about anything else, whether you are planning an event or running a restaurant.
Before you worry about anything else, give this a lot of thought.
There are many other kinds of plates you can buy, and most of them are made of materials like ceramic and porcelain, which can be expensive and break easily.
For the same reason, plates made of plastic are better than those made of other materials because they are cheaper and less likely to break.
Due to recent advances in technology, there are now a lot of plastic tableware accessories that you can buy in stores and even online. Unlike porcelain plates, these are easy to carry because they are small and don't weigh much.
Most importantly, the people who own the houses will find these sets to be a great choice because they won't have to worry about the plates breaking and the kids will be safe using them.
Most of the time, they come in the shape of cups and tumblers and are sold in sets. You can acquire any design or set depending on your tastes and requirements from our company.